By The Montana Standard; Link to whole story
April 21, 2022
BUTTE — The first piece of art Christian Jones sold was returned.
Inside his Hall-Kent Elementary classroom, just a block from his home in Homewood, Alabama, Jones folded a sheet of white computer paper into a long rectangle. On it he sketched a character from the anime series Dragon Ball Z and, thanks to minimal overhead, sold it to a classmate for 100% profit.
"The kid brought it back home and probably told his mom that he bought it for however much I sold it for. I think it was like five bucks for a bookmark," Jones said, laughing. "I had to stop."
There's no one stopping Jones now.
A senior on Montana Tech's 2022 Frontier Conference champion men's basketball team, Jones is transitioning from college athlete to working artist. Finally, after years abiding the pre-existing structure, repetition and expectation that Jones feels are inherent in our lives, he's creating his own world.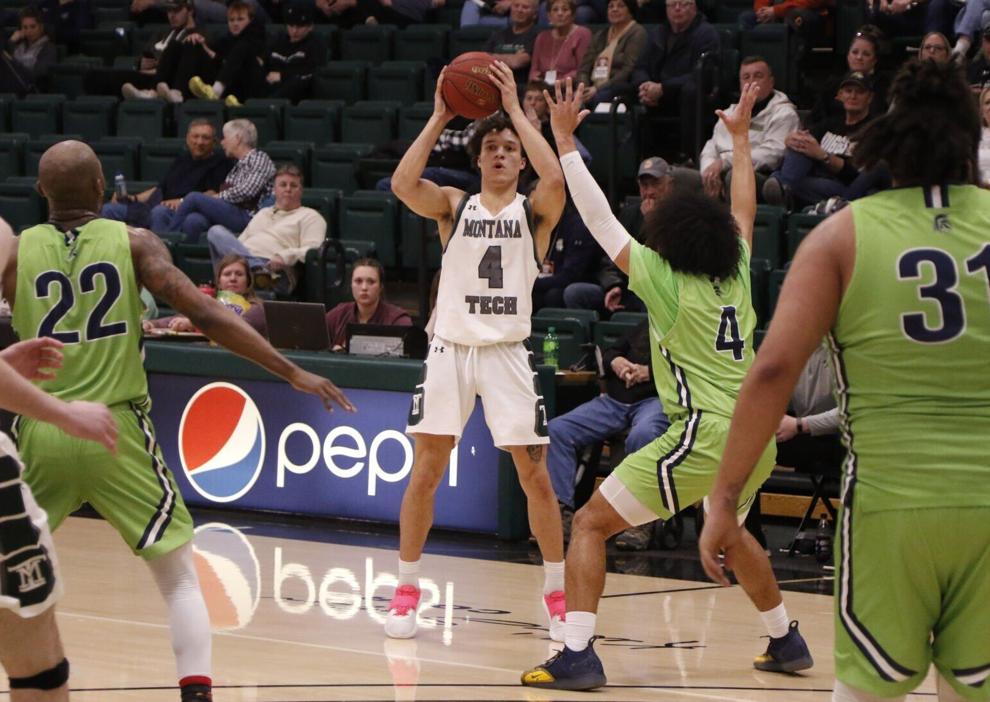 He calls it "DeCarl's Wrld."
"If you sit down and try to be creative you can create your own story," Jones said. "I feel like a lot of people are just OK with being side characters in other people's stories."
DeCarl is Jones' creation. A tall, lanky, gray-blue figure with smooth, balloon-animal limbs, his curly hair and dark facial features are left a mystery under a mask. DeCarl was introduced wearing a "burglar fit" complete with vertical pinstripes reminiscent of early 20th-century gangsters. Jones said the character, whose appearance has evolved since his Instagram debut on Jan. 5, 2021, represents the belief that "it's not criminal to be yourself."
"Everybody is expected to follow a certain path in life, and that kind of holds you back from doing what you want to do," Jones said. "It kind of feels criminal to do your own thing, or you'll be an outcast."
That sentiment is at the heart of Jones' message, and the driving force behind his art.
To Jones, being yourself means being creative and embracing the uniqueness of others.
"I think we all have the ability to be creative in our own ways," Jones said. "You can create better relationships. If you're a teacher, create a better environment for your students to learn. Creating something doesn't have to be like a physical product … it's really about the lens you see through."
Jones' lens is available for everyone to see through, and it's growing in popularity.
He first spread his message through Instagram posts, and then through hoodies he made and sold from his home near Tech's campus. Jones ordered blank Champion hoodies and sewed a large DeCarl face design onto the backs.
When Jones' girlfriend, Montana Tech women's basketball player Soda Rice, first taught him to sew, it took him nearly an hour to complete one hoodie. Now he can sit at his Singer Fashion Mate and complete a hoodie in less than 30 minutes. Jones estimates he's sewn 200 hoodies, and he still can't believe it when he sees someone wearing his artwork.
"It felt unreal," Jones said. "Still to this day it's just, like, crazy that someone actually supports what I'm doing."
Since early 2021, a social media account and some DIY apparel has grown into a website (decarlswrld.com), nearly 1,500 Instagram followers (@decarlswrld), and most recently, retail space in uptown Butte.
Jon Wick, co-owner (alongside his wife Cassie) and lead designer of 5518 Designs in Butte, first heard of Jones through his employees, most of whom are students at Tech.
The more Wick learned about Jones and his art, the more he thought Jones was a great candidate for his store's artist series, a rotating promotion that highlights a local artist's work on 5518 apparel.
"It was all just a perfect match for what we were doing," Wick said.
Starting in February, DeCarl could be found striding across the backs of 5518 hoodies and T-shirts, above the text "GET LOST OUTDOORS" and splitting the phrase "I don't know where I'm going … but I'mma keep going til I find out."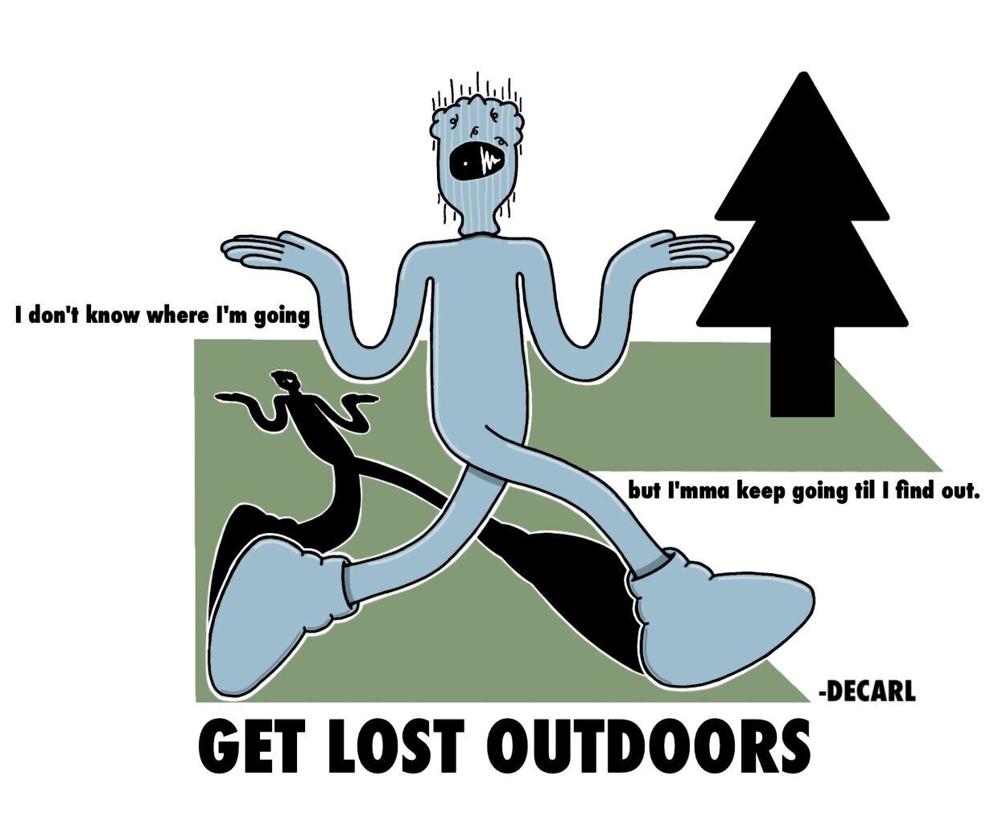 Wick asked Jones to submit something that meshed with 5518's outdoorsy style, but was otherwise hands off during the creative process.
"I want it to look specifically like their art, I want it to look very different from the stuff that we create for 5518," Wick said.
Jones added the text, along with a grassy backdrop and lone pine tree to fit in with 5518's Montana-specific vibes.
The fit was a success, and now Jones' temporary collaboration with 5518 has blossomed into a partnership with the Wicks' new business, Dig City Supply. The officially licensed Montana Tech fan store at 43 West Park Street opened on April 11 and features a DeCarl's Wrld booth with Jones' Orediggers designs.
"I'm just very appreciative of Jon Wick and the opportunity he's given me," Jones said. "We just want more creatives to show off their stuff, I think that's why he gave me this opportunity. He's a creative just like me."
Wick, who also photographs Tech sporting events, wants to help young artists get exposure and experience in the business.
"I feel grateful that we're in a position where we can celebrate a person like Christian and everything that he's doing for young people, for Tech, for creatives, for artists," Wick said.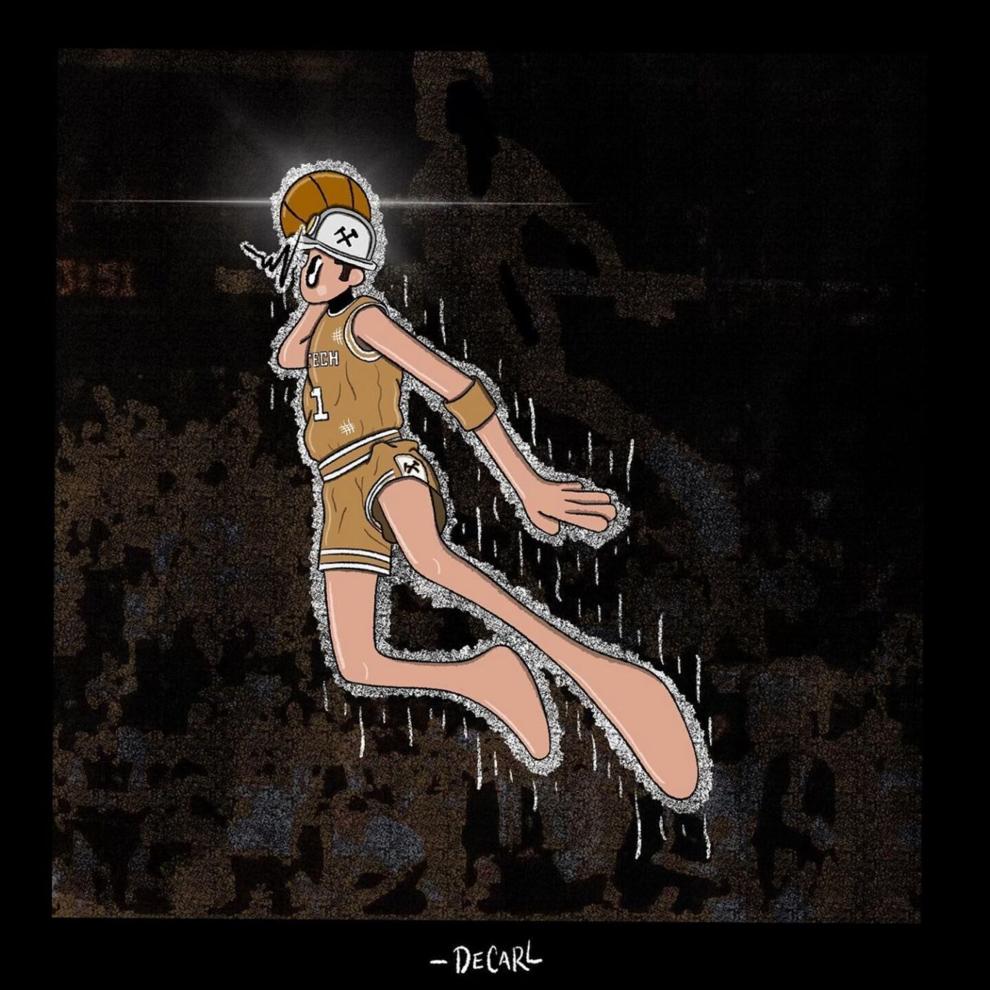 Jones is a fifth-year senior and will graduate on May 7 with a bachelor's degree he's happy to have, and eager to disregard.
"People really expect me to get that engineering job, start making a lot of money with that, and just follow that path," Jones said.
And despite his academic success, Jones felt most like an outcast in the engineering program.
"I feel like I don't relate to anyone in the classroom, really," Jones said. "Even, like, the part of the brain you use to think like that – creatively (versus) analytically – is two different things."
The left-brain dominated field of mechanical engineering made the most practical sense when Jones was accepted to Tech.
"The only reason I did engineering was because I was good at math," Jones said. "I got recruited here to play basketball and I was like, I might as well do engineering at the best engineering school."
Now with a bachelor's degree imminent and the Fundamentals of Engineering exam passed, a professional engineering license and highly sought-after career are within reach. But for Jones, his success has to align with his passion.
Jones rediscovered his passion for creativity during the pandemic. Jones felt as though the rigors of being a student-athlete in a demanding major led him to lose touch with his artistic side, so he made it a point to start sketching again during the fall of 2020. By that winter he invested in an iPad used to create digital art.
"After a month, I eventually developed the character that is DeCarl and DeCarl's World," he said.
"DeCarl" is the middle name of both Christian and his father, Yoga Jones. But it's not the only thing his parents passed down to him.
His mom, Andrea, made her own jewelry and sold it in a Homewood strip mall when Christian was just a boy, and then again in Laurel, where they moved in 2009.
"I just spent my days chilling in her consignment store while she worked," Jones said. "So I kind of grew up in the retail setting."
Maybe that's why Christian Jones can alternate seamlessly between the cold terminology of business and the romantic language of art.
He wants to get his "brand name out there" while just "creating from the heart." He wants to get DeCarl's Wrld "into different stores and businesses" in hopes that expansion will allow him to keep "spreading my message."
"I'm hoping I don't focus on the money and just focus on creating and trying to uplift people with the message I am spreading," Christian Jones said. "The money will just be a byproduct."
Yoga Jones works for Wells Fargo in Billings, but was a relentless business man in his younger days.
"I've always been an entrepreneur at heart, and I think that lives on to him," he said.
Yoga is the first to admit his early business ventures flopped.
"I probably created and failed at four different businesses," he said. "(But) I always had great ideas."
Even his most successful idea – a company that sold cell phone accessories just as cell phones took off in the mid-to-late nineties – had a shelf life.
Yoga even invoked Thomas Edison's struggle to invent the light bulb. "He had a lot of failures" but kept moving forward until he realized his goal.
"I learned a lot. Every time something failed, it was always a great learning experience," Yoga said.
Now, Yoga believes that Christian will be able to build on the experiences of his parents. Andrea gets credit for exposing Christian to her successful jewelry shops, and Yoga believes Christian's vision and drive stems from his examples.
"The bravado of it all derives from me," Yoga said.
Yoga isn't worried about Christian's decision to pursue life as an artist. In fact, he sees himself in his son's aspirations.
"He's actually doing something that he loves, that he has a passion (for), that he wants to take all the way," Yoga said.
With the modest notoriety that DeCarl's Wrld has already garnered, Christian has accomplished what his father couldn't — attach their shared name to a successful business with room to grow.
"I can live vicariously through him. I almost get a second chance," Yoga said. "Not for me, but to help Christian to get to that level that I wanted to get to."
And even if it doesn't work out, Yoga Jones is comforted by the education his son secured.
"He's about to graduate, he's got a great GPA. All that's in his pocket," Yoga said. "If he can't make DeCarl's Wrld pop off, I feel good at least he has that mechanical engineering degree to fall back on."
Christian fully understands the risk he's taking. There's a level of security that comes with a career in engineering, certainly more than comes with a swing at the art world.
"But for the most part people have been really supportive of what I want to do," he said. "Yes, I'm aware of what people expect. And what I'm doing is different. It's just about accepting what I really want out of life and try not to worry about what people expect too much."
So far the reception to his decision, and his art, has been positive.
"I don't think I have any haters yet," Christian said. "I think people are embracing it well, so I just want to continue to push the message in as many ways as I can."
Christian still doodles when bored in class, and in just a few weeks he'll be able to devote himself to his art full-time.
"Ever since I started (DeCarl's Wrld) I had engineering and basketball, I feel like I really haven't been able to give it my all so far," Christian said. "I want to just keep pushing it and see if I can keep expanding."
As for basketball, Jones is done as a player in organized ball, and doesn't envision himself as a coach. And while he'll play in the occasional pick-up game or 3-on-3 tournament, he says art is his new daily routine. Christian DeCarl Jones wouldn't be staying true to himself if he didn't take aim at his goal and shoot his shot.
"It's kind of like another way of getting in the gym," Jones said. "Instead of shooting hoops I'm in my room grinding hella doodles."